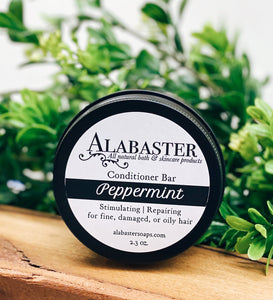 for fine, damaged, normal to oily , or curly hair, stimulates hair growth, defines curls, helps heal and nourish damaged or irritated scalp
This bar is one of Alabaster's best sellers!
The butters and oils in Alabaster's conditioner bars nourish and soften hair, leaving it silky smooth without weighing it down.
Cocoa butter:
is healing, preventing breakage while adding volume and strength to fine hair.
Meadowfoam oil:
moisturizes and rejuvenates.
Scented with mint and rosemary essential oils.
As with the shampoo bars, there is less waste with solid conditioner bars and each bar will last several months with proper storage in between uses. It's best to place the bar where it can dry when not in use. Using only the amount you need, a little cream goes a long way and there is no waste from leftover product in a bottle like conventional conditioners.
Each bar weighs 2.3 oz. and lasts 6+ months.
How to Use:
Wet bar (it works best if this is done a few minutes before using.  I wet the conditioner bar as soon as I get in the shower).  After shampooing hair, rub bar between hands to work up a cream, then massge over wet hair, working the cream into the ends of hair.  Rinse.
Ingredients: behentrimonium methosulfate, cetyl alcohol, organic cocoa butter, babassu butter, grapeseed oil, unrefined hemp seed oil, organic castor oil, meadowfoam oil, broccoli seed oil, essential oils (peppermint, rosemary), green tea extract, banana powder extract, vitamin e.