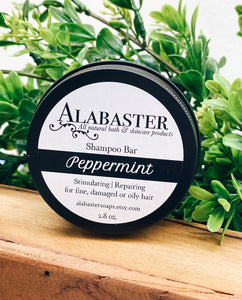 ***BEST SELLER***
for stimulating + repairing hair and scalp. Best suited for fine, damaged, or normal to oily hair. Several customers with curly hair report that this bar is great for defining curls
French green clay: draws oil and impurities from the scalp
Green tea: antioxidant rich, protects, stimulates and freshens the scalp.
Hempseed oil: improves hair's elasticity, aids in keratin formation
Peppermint essential oil: helps promote hair growth and keep hair healthy.
Cocoa butter: healing, prevents breakage while adding volume and strength to fine hair.
Alabaster shampoo bars nourish your hair with vitamins and minerals while leaving it soft and clean. There is no product build up in your hair, something that often happens with regular shampoo. Solid shampoo bars are a concentrated shampoo that are the equivalent of 2-3 bottles of conventional shampoo. Only a small amount is needed to get a big lather, cleaning your scalp and hair without stripping them of the natural oils, and allowing you to go longer in between washes. One shampoo bar can last at least 3-4 months with proper care and storage - most people report that bars last even longer.
And each bar of shampoo is gentle on the hair and scalp, so gentle in fact that I use these bars on my whole family. Apart from how awesome these bars are, and how soft and clean my hair feels, I love that there is less clutter in the shower. No more multiple bottles of product for every member of the family taking up space. And NO parabens, toxic chemicals, or synthetic fragrances. Plus zero plastic waste.
Shampoo bar weighs 3 oz.
How to use:
Wet hair thoroughly. Wet bar. Rub bar between hands to work up a lather (this will take a little longer on the very first use but bar will lather quickly on subsequent uses). Then rub bar over scalp in circular motion to work ingredients into hair and build lather. Set the bar down in a spot where it can dry. Scrub scalp with fingertips to clean and continue working shampoo into scalp. Rinse.
***For optimal bar quality, place bar in a spot where it can dry in between uses.***
Made with: sodium cocoyl isethionate, behentrimonium methyl sulfate, cetyl alcohol, glycerin, aloe vera, organic cocoa butter, grape seed oil, hemp seed oil, green tea extract powder, french green clay, peppermint essential oil, rosemary oil, vitamin e