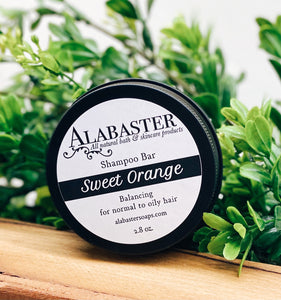 For normal or oily hair, calms, smooths and balances oil production on the scalp keeping hair healthy.

Shampoo bars are a concentrated shampoo that are the equivalent of 3-4 bottles of conventional shampoo. Only a small amount is needed to get a big lather, cleaning your scalp and hair without stripping them of natural oils, allowing you to go longer between washes. One shampoo bar is comparable to 2-3 standard bottles of shampoo and can last 3-4 months with proper care and storage - most people report that they last even longer (6+ months).

Formulated to nourish your hair with vitamins and minerals while leaving it soft and clean.

The turmeric in the orange bars helps to normalize the hair and scalp. Sunflower oil is rich in vitamins A, B, C, and E, as well as calcium and iron. It will balance the natural oils in your hair without making it greasy and weighed down, leaving it bouncy, soft and smooth. Sunflower extract powder is rich in vitamin F and has antioxidant properties. It helps form a protective seal around the hair shaft, enhancing thickness. Mango butter helps regeneration of the scalp which in turn promotes healthy hair growth. Orange oil is antibacterial and helps remove toxins and balance an oily scalp.

Each bar of shampoo is gentle on the hair and scalp, so gentle in fact that I use these bars on my whole family, my 2 year old included. Apart from how awesome these bars are, and how soft and clean my hair feels, I love that there is less clutter in the shower. No more multiple bottles of product for every member of the family taking up space. And NO parabens, toxic chemicals, SLS, or synthetic fragrances. Plus no plastic waste.